DRAMA & COMMUNICATION PROGRAMMES
Following PlayClub, your child will be ready for our range of specially-designed Drama & Communication Programmes which encompasses Speech and Drama. At Julia Gabriel, our children love our Speech and Drama programmes because we teach communication, problem-solving and group dynamics skills through the exciting medium of drama tools such as poetry, theatre, mime, puppetry, role-play, masks, story-telling, reading aloud and creative writing, creating an environment that promotes the use of imagination and creativity, and enjoyment of rhythm, sound and language.
Sounds fun? It is. Yet at the same time, we take our Speech and Drama learning seriously too. To guide the progress of our students, our Speech and Drama Programmes can prepare your child for the Trinity College London Speech Communication Arts syllabus. At the end of a full year of attendance, our Speech and Drama Students from Primary 1 onwards are also assessed by visiting assessors from the Julia Gabriel Speech and Communication Arts Board or the Trinity College London for graded achievement awards each year.
---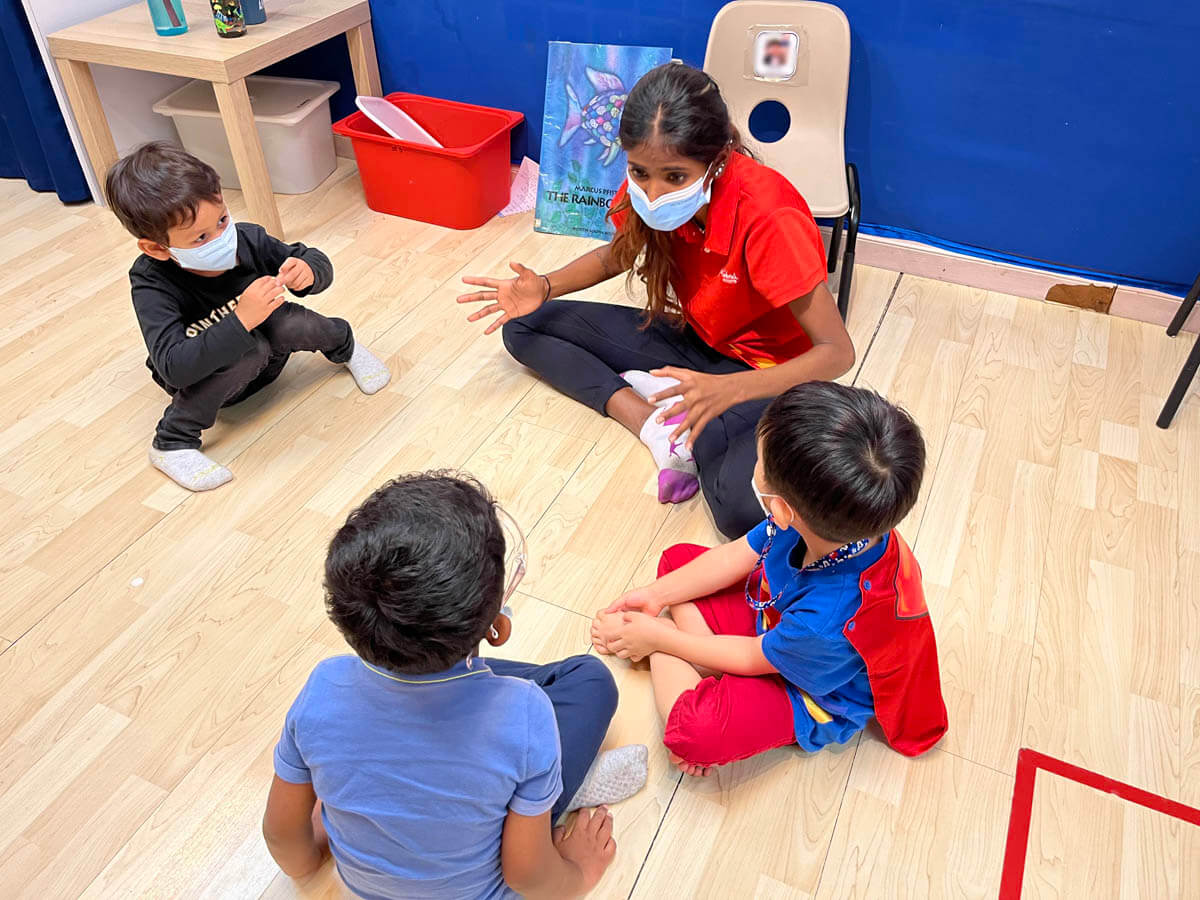 ---
Speech & Drama
(3 & 4 Years / Nursery 1 & 2)
Making learning as natural and engaging as play
Our focus for the little 3 to 4 year olds is language in action with stories, music, props and characters. With specially selected collection of literature, we enable young children to develop their use of language in a stimulating yet natural setting. Children are encouraged and motivated to develop inquiry-based learning as independence is nurtured in a fun and friendly environment created by our teachers.
Read More
In Speech and Drama for Our Little Ones, our students will:
▪ Build confidence and expressive communication through reading stories aloud
▪ Develop inquiry-based learning as independence is nurtured
▪Foster creativity and imagination through role-play activities
▪Develop fine motor skills, confidence, independence and social skills through free play
▪Learn to focus through exposure to music and movement games
"Language – speech, art and drama – all combined in a VERY loving atmosphere. We are pleased to see such a happy girl coming home from class. Thank you."– PARENT OF MAIA COMBS
---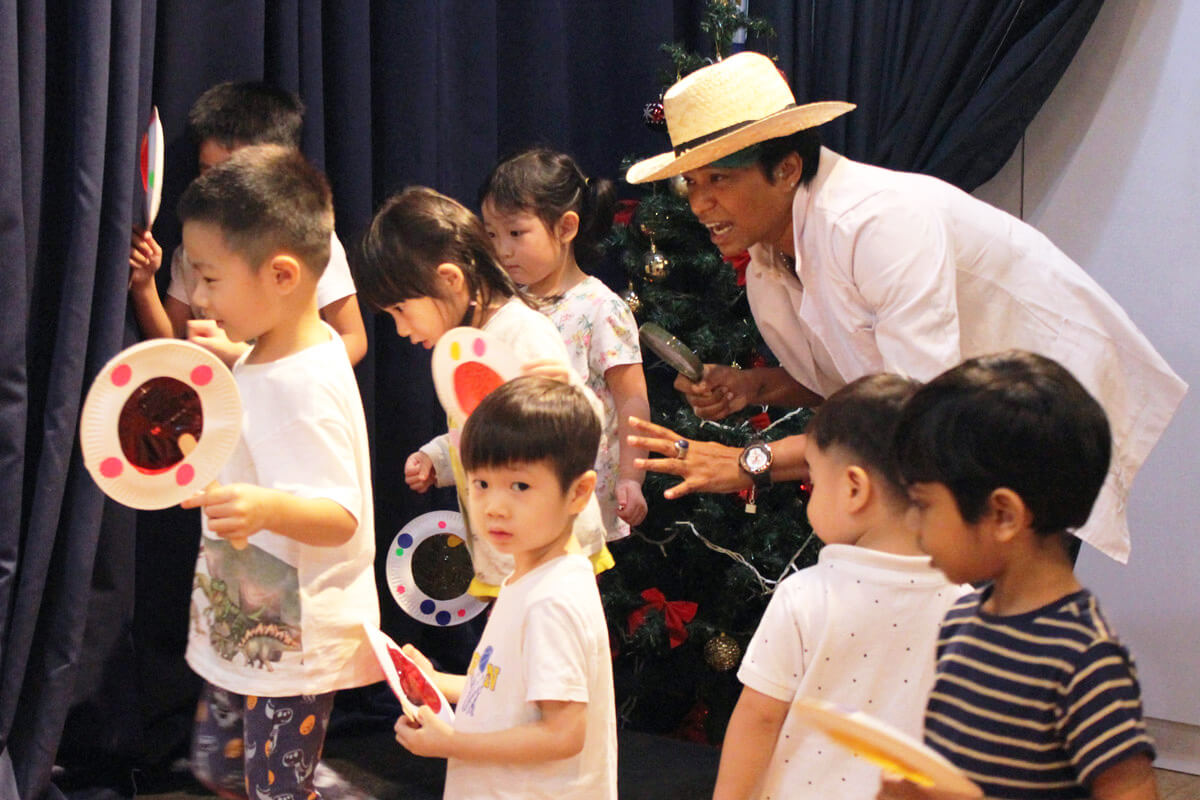 ---
Speech & Drama
(5 & 6 Years / Kindergarten 1 & 2)
Inspiring creative and cognitive thinking through poetry and prose
Based around stories that appeal to children while helping children develop self-awareness and an understanding of their own abilities, Speech and Drama for our 5 and 6 year olds work towards the Trinity College London's Young Performers Certificate – supported by the teacher in an appropriate, child-centred environment.
Read More
In Speech and Drama for Young Children, our students will:
▪ Develop self-awareness and understanding of their own abilities
▪ Work on their language skills through thematically-structured curriculum
▪ Extend life experiences through drama by trying out different roles and ideas
▪ Develop cooperation, collaboration and creativity through our unique project activity that introduces our students to drama performance development
---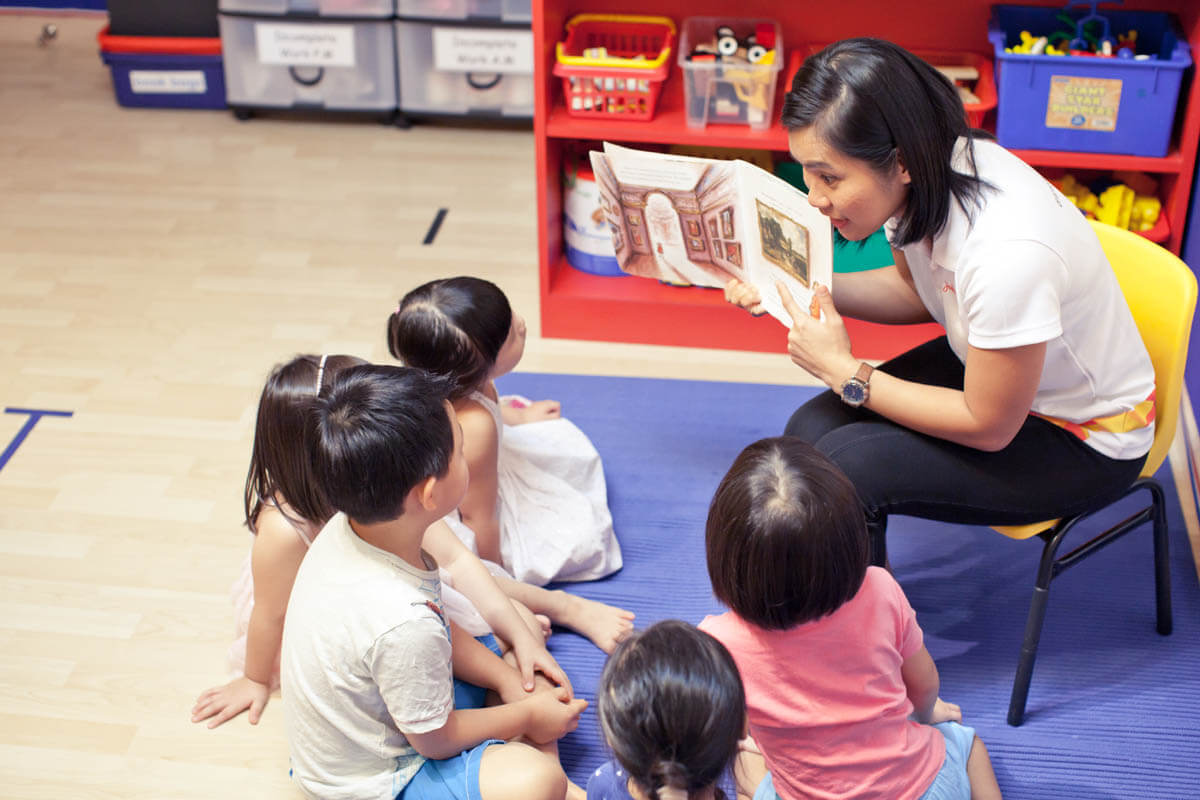 ---
Speech & Drama
(7 – 12 Years / Primary 1 to 6)
(This programme is currently not offered in Kuala Lumpur this 2023.)
Empowers every learner to become a self-leader
Focusing on communication, conversation and discussion skills to build confidence, concentration and social expression, our early-primary students (ages 6-8) work towards a Level 1 and Level 2 of the Trinity College London Speech Communication Arts syllabus.
For our upper primary students (ages 9-12), students are guided to master critical thinking skills and confidence to express ideas in formal and informal communication situations.
Read More
Students work towards Levels 3-6 of the Trinity College London Speech Communication Arts syllabus which focus on developing expressive communication and confidence in public speaking. At the same time, students also work on building up their planning and preparation skills that come with developing their oral presentations.
In Speech and Drama for Children, our students will:
▪ Focus on communication, conversation and discussion skills
▪ Develop ability to express ideas, needs and interests
▪ Find solutions while building self-esteem
▪ Widening and deepening reading and literacy skills through recording their responses to stories and drama activities in pictorial and written form
For older children (age 9-12):
▪ Develop critical thinking skills and confidence to express ideas in formal and informal communication situations
▪ Master skills needed to read and perform literature expressively
▪ Public speaking skills: Plan and deliver presentations
▪ Critique and review books
▪ Create, structure and narrate stories
"The teacher accepts every child as a unique individual, encourages imagination and resourcefulness, helping the child to be less inhibited. The programme makes learning a joy. Great job!"
– PARENT OF NOAH NG YI EN