"I pick teachers with passion and a special disposition for working with children, and focus my time on them now, because they are the models children learn from. The more playful, creative and aware the teacher, the richer the experience for children, and the more hopeful the future!"
- Julia Gabriel
Our teachers not only have relevant early childhood, drama and/or teaching qualifications, many also have some measure of experience – in their area of expertise (doesn't have to be speech and drama but it could well be).
We are fortunate to receive resumes from people who come from all over the world who would love to be part of Julia Gabriel's special blend of magic and learning.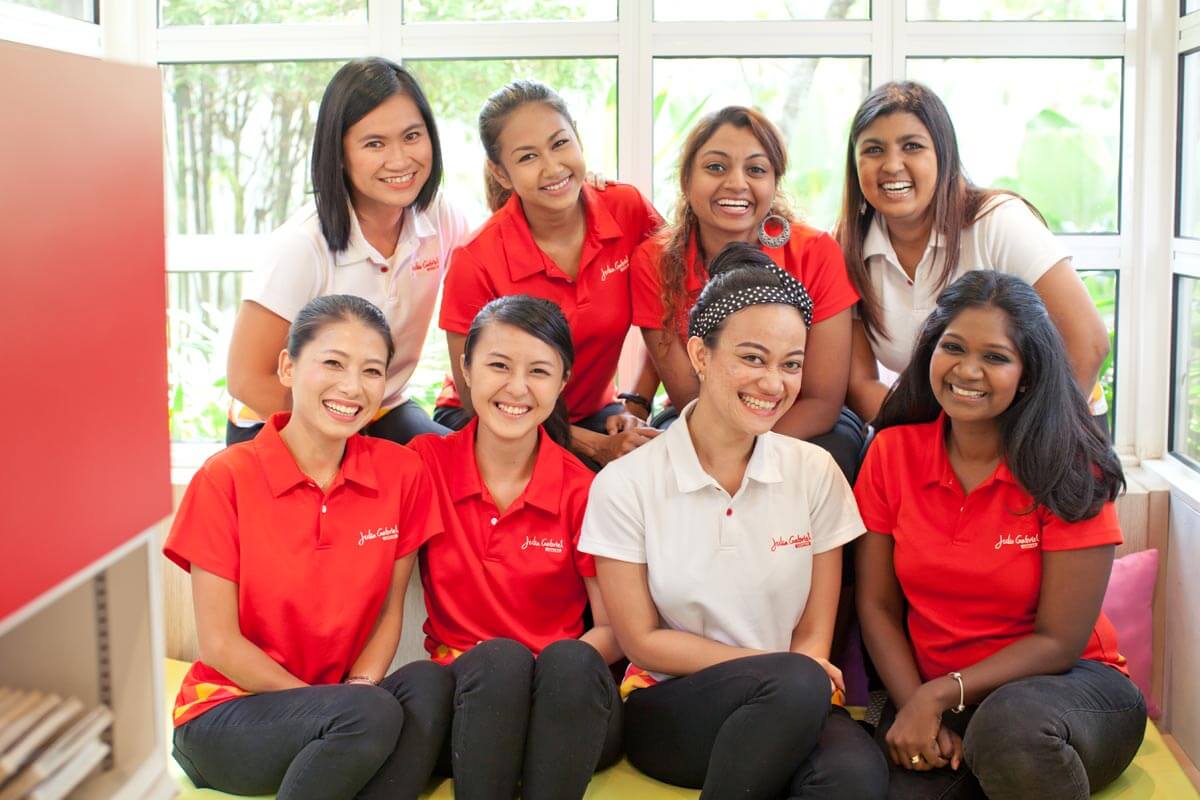 We invite those who are interested and qualified to come visit us in person at our centres. Come and experience for yourself what we do. In fact, all of our interviewees spend at least a day with us, getting fully immersed in our classes, meeting and chatting with us.
We at Julia Gabriel Education aren't interested in giving you a job. We are interested to see if there could be a match in terms of you having some of what we call the "Julia Gabriel Centre DNA"
While there are no set personality profiles for an authentic Julia Gabriel Centre person, we have a strong identity and culture as an organisation. Some of the qualities of self-leadership that each and every individual in our organisation embodies and collectively imbues include:
▪ an insatiable appetite for learning and continuous development, and the ability to nurture this in others
▪ a high degree of self-awareness
▪ enjoying expressing one's talents and strengths
▪ making time to play
▪ an ability to nurture and nourish creativity
▪ pushing boundaries to express one's creativity
▪ actively seeking enriching experiences
▪ balancing creativity with practical solutions
▪ an ability to express oneself confidently and authentically
▪ an ability to connect with and support others
▪ an ability to celebrate differences and thrive in such an environment
▪ an ability to view challenges as opportunities for healthy growth and learning
▪ an ability to share information through communication and collaboration
▪ being true to one's values
▪ being honest with oneself and others
▪ striving for excellence and integrity
▪ supporting, motivating and inspiring excellence
▪ demanding rigour in everything that one does
▪ having a pioneering spirit
We do not expect individuals to have all of these qualities when they join us, but the Julia Gabriel Centre DNA can be developed in those who demonstrate potential.
We are always on the lookout for mature, energetic, fun-loving, creative and hardworking people. Contact our Human Resource Department at +602 2201 0799 to learn about our current vacancies or deposit your resume below.
Admissions Executive
You will be a part of the School Administration Team reporting to the Admissions Manager and assisting the school leaders in the areas of student enrolment and general administration. Job Requirements - Preferably with at least 2 years of prior experience in customer service or in the education industry. However, fresh graduates are also encouraged to apply. - Must be fluent in English, oral and written; proficiency in Mandarin is an added advantage. - Strong office management skills, with proficiency in Microsoft Office applications and comfortable with IT systems. - Strong interpersonal, organisation and communication skills, as well as the ability to work well in teams. - Possesses own transport. - Preferably able to work from Tuesdays to Saturdays. Job Description - To support the Admissions department in the end-to-end admissions processes and procedures by executing the approved enrolment plan to drive leads; managing school tours, enquiries and registrations to achieve the overall student enrolment goals for the school. - To provide accurate information and guidance to prospective parents about the school and build a warm relationship with students and parents as our partners in line with our school's set of values. - To coordinate with the finance department in matters related to school fee payments in a timely manner. - To maintain student records and data using the school's management system including submission of periodical reports to the relevant authority bodies as and when required.
After School Care Teacher (Daycare) - Urgent Hiring (from March 2023)
Job Requirements - At least a Diploma in Early Childhood Education or equivalent. - At least 2 years of experience working in a licensed childcare center or similar setting. - Excellent English proficiency. - Must be available to work from 10:30 am to 7:00 pm, Monday through Friday. - Passion for working with young children (from ages 18 months - 6 years), with a commitment to their growth and development. - Skills required: Classroom management and lesson delivery, lesson planning, literacy and numeracy, drama and speech, logistic planning; good interpersonal, communication and presentation. Job Description - Provide a safe, nurturing, and stimulating environment for children in our care. - Plan and implement developmentally appropriate activities and curriculum. - Observe and evaluate children's performance and progress, and communicate with parents about their child's development. - Maintain accurate records and documentation, including daily attendance and incident reports. - Assist with meal and snack preparation, as well as cleaning and maintenance of the classroom. - Work collaboratively with other teachers and staff members to ensure high-quality care and education for all children. - Attend mandatory trainings when needed.
Lead Mandarin / English Teacher
Job Requirements - Must possess relevant qualification in teaching and/or early childhood or its equivalent recognised by the Ministry of Education. - Strong Mandarin / English language proficiency. - Minimum 1 year of teaching experience in a preschool setting. - Good understanding of child development and learning needs with the ability to engage with children between the ages 1.5 - 6 years. - Skills required: Classroom management and lesson delivery, lesson planning, literacy and numeracy, drama and speech, logistic planning; good interpersonal, communication and presentation. Job Description - Conduct classroom session(s) for assigned level. Works hand-in-hand with English / Mandarin Partner Teacher in regards to the children in their class. - Develop lesson plans for day-to-day teaching activities and establish learning objectives for the day based on curriculum plans and guidelines provided. - Participate in curriculum development if required. - Interact with children effectively and ensure their physical and emotional well-being are properly cared for. - Monitor, record and provide feedback of a child's learning growth progress through classroom assessment, evaluation. - Ongoing engagement and communication with parents/guardians on child's progress, issues, etc. through periodical updates to establish and maintain a good relationship. - Manage logistics planning for non-curriculum activities (e.g. field trips) and festive activities. - Guide and mentor Support Mandarin / English Teachers. - Support operational or external events as and when needed. - Attend mandatory trainings when needed.
Support English Teacher
Job Description - Assist the Lead English Teacher in supporting lesson delivery and curriculum activities, such as the preparation (e.g. cutting resources)/setup of materials/equipment/portfolio and classroom management in various curriculum areas. - Supervise the class, and monitor the children alongside the Lead Teacher. - Provide inputs and support to teachers in preparing the developmental profile of children. - Attend a child's basic needs (e.g. toileting, questions, etc.) during programmes/playtime/snacktime. - Maintain safety and emotional well-being of the children. - Function as a cover teacher in the absence of the Lead Teacher. - Supporting the manpower needs of the centre as and when needed. - Answer or relay basic curriculum related (e.g. purpose of activities) parent enquiries. - Provides administrative support for record-keeping, filing, distribution of circulars, newsletters, etc. - Attend mandatory trainings when needed. Job Requirements - Strong English language proficiency. - Proactive, creative and possesses a positive learning attitude. - Good interpersonal and communication skills. - Knowledge in basic first aid will be an added advantage. - Preferably equipped with skills in classroom setup, preparation and routine management.